:::
Taiwan Can Help, and Taiwan is Helping!
Background
In contrast with the international COVID-19 outbreak, Taiwan's condition is relatively more stable. Moreover, after prospective strategic planning that was carried out at a much early stage,Taiwan's epidemic prevention materials have been increasing to sufficient supply. Knowing that this disease infection can reach anyone globally, therefore, as long as the global pandemic does not slow down, Taiwan will continue to face the threat coming from COVID-19. Under the circumstances that Taiwan now has sufficient resources, we are willing, and have the ability to offer our helping hand to support our friends. From donating masks, pharmaceuticals supplies to the international collaborations, we are demonstrating the spirit of "Taiwan Can Help, and Taiwan is Helping!"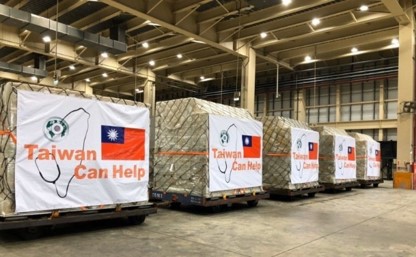 ---
Measures
I. Safeguard Taiwan and Help the World:
At the moment, everyone in Taiwan is eligible for purchasing 9 masks every 14 days, which is sufficient for general everyday use. On the other hand, since the global community is experiencing mask shortage, Taiwan has been donating high-quality  masks to countries with severe COVID-19 outbreaks. Additionally, on April 27, 2020, the government opened the opportunity for the general public to donate their own non-purchased mask quota to the "Protect Taiwan and Help the World" campaign. Approximately 4 million donated masks were raised within a week after the campaign started. This not only demonstrated Taiwan's democracy, but also the global civic spirit of the Taiwanese people. 
The German Minister of Health, Mr. Jens Spahn, had sent a letter to Minister of Health and Welfare (MOHW) , Shih-Chung Chen, to thank Taiwan for donating masks to the German medical health workers. 
II. Intensify the collaboration with the US, European Union, Australia and other countries with regard to epidemic prevention:
Taiwan is currently working with the U.S. and other countries to develop the COVID-19 vaccine, pharmaceutical research and development, disease prevention materials. Taiwan also collaborates with the EU through epidemic prevention material donations and exchange of epidemic prevention technologies. Furthermore, bilateral beneficiary cooperation is also seen between Taiwan and the US and Australia over PPE and alcohol raw materials, respectively. 
The Ministry of Foreign Affairs and the American Institute in Taiwan Taipei Headquarters (AIT/T) issued a "Taiwan-U.S. Joint Statement on a Partnership against Coronavirus" on March 18, 2020, to allow for both countries to pool their capabilities and advantages and collaborate on rapid test reagents, vaccines, and pharmaceutical research and production. 
Epidemic prevention collaboration: Medigen Vaccine and the U.S. National Institutes of Health (NIH) are now working hand in hand over the development of COVID-19 vaccine. Animal tests are done by the Medigen Vaccine from using the vaccines that are provided by the NIH to speed up the development. 
III. Promote participation in the WHO:
(1)Current Situation
To safeguard the rights to healthcare of the people of Taiwan  and fulfill global citizen's responsibilities. Taiwan initiated the promotional project of participating in the World health Organization (WHO) since 1997. WHO had included Taiwan in 2009 as part of the "International Health Regulations 2005 (IHR2005)". Taiwan was able to participate in the World Health Assembly (WHA), the highest health policy setting body of the WHO from 2009 to 2016.
However, China continues to use its fictitious "One China Policy,"United Nations General Assembly Resolution 2758, and Resolution 25.1 of the 25th WHA to wrongly indicate that Taiwan has no right to attend the WHA. Additionally, China unreasonably blocks Taiwan from attending other conferences, mechanisms, and events of the WHO, which seriously damages the Taiwan 23 million citizens' right to health, and politicizes Taiwan's efforts to "Professionally, Pragmatically, and Contributively" join the WHO.
WHO's Office of Secretary has succumbed to China and cannot address Taiwan's case in an unbiased and professional manner. Not only hadn't they invited Taiwan as an Observer to attend WHA since 2017, but Taiwan was only invited to 57 WHO technical meetings from 2009 to 2019, despite submitting 187 conference applications.  Furthermore, WHO does not publish our IHR contact information on the IHR website, resulting difficult connection between Taiwan and other countries when in need and severely affecting data exchange over disease outbreak. Take COVID-19 outbreak for instance, Taiwan's IHR contact point has always abided by the International Health Regulations 2005 (IHR 2005) in notifying WHO of COVID-19 relative information. Nonetheless, data delivery is only unilateral as WHO has never shared our data and preventive measures to other countries, nor did they accurately present our data in the daily situation updates. We continue to lodge a stern protest. For details, see
the related press releases and statements from the Ministry of Foreign Affairs.
Taiwan has an independent and comprehensive medical and public health system. Despite being excluded from WHO, we continue to proactively seek participation in WHO and WHA by adhering to the principles of professionalism, pragmatism, and contribution that are based on our commitment to safeguarding public health and protecting human rights. We hope, as a country and nation, to return to WHO observer status to contribute our strong capabilities, rich experience and generous transparency in WHO's related meetings, events and activities. 
(2)The following shows the Ministry's efforts to participate in the WHA in 2020:
The Minister wrote a letter named "Global Health Security—A Call for Taiwan's Inclusion." As of May 20, 204 articles were published by the international news media, including "The Times"in the UK, "Le Monde" in France, "The Asahi Shimbun" in Japan, and "The Sydney Morning Herald" in Australia. Nearly 150 news agencies in 45 countries published
this article
.
The Minister of Health and Welfare Dr. Shih-Chung Chen and the Secretary of the U.S. Department of Health and Human Services (HHS) Alex Azar II had a video conference on April 27, 2020 to exchange ideas over the COVID-19 prevention strategies, global health security and Taiwan's participation in the WHO. The U.S. government expressed their support for Taiwan's observer status in the WHO. Both sides agreed to intensify and expand their collaboration in the areas of public health, especially the cooperation in the development of COVID-19 vaccines, medicines and epidemic prevention materials between Taiwan and the U.S..
The Statement on Taiwan's Exclusion from WHA
The Taiwan Ministry of Health and Welfare (MOHW) and the United States Department of Health and Human Services (HHS) released statements on Taiwan's exclusion from the 73rd World Health Assembly on May 19, 2020. In the HHS statement, the United States urges the WHO to return to the practice of inviting Taiwan to participate as an observer in the WHA. The exclusion of Taiwan from the WHA must not continue. The United States also urges the WHO to systematically engage with Taiwan health experts on COVID-19 and beyond. The global community could learn from Taiwan's experience from COVID-19 and do more to include them. In its statement, MOHW is grateful for the staunch and longstanding support from the United States, Taiwan's diplomatic allies, and other like-minded countries for ensuring Taiwan's meaningful participation in WHO meetings so that Taiwan can make further global contributions. Taiwan will continue to work with these countries and observe the principles of professionalism, pragmatism, and making contributions as it seeks to broaden its international participation. 

Link to the U.S. HHS statement
On May 15, the Taiwan Ministry of Health and Welfare (MOHW) held a virtual forum titled "Review of COVID-19 prevention and control strategies"in Taipei with 50 health officials from 14 countries and regional organizations in attendance, including the U.S., Japan, Canada and other like-minded countries. The forum underlined that preventing the spread of diseases and maintaining health of all humankinds are universal values, while no countries can stand aside or achieve these on their own. Acting Assistant Secretary of U.S. Department of State for International Organization Affairs Pam Pryor praised the Taiwan Model for Combating COVID-19, reaffirming that the United States vigorously supports Taiwan's participation in international organizations including the World Health Organization (WHO), and expressed that they are grateful other countries stand together to support Taiwan's inclusion in the global health system. Deputy Director for Global Affairs of the U.S. Department of Health and Human Services, Colin McIff, praised the Taiwan Model, and stressed the U.S. support for Taiwan's inclusion in the WHO. At the forum, delegations of participating countries complimented Taiwan's efforts combating COVID-19 and discussed their prevention and control measures as well as future collaboration.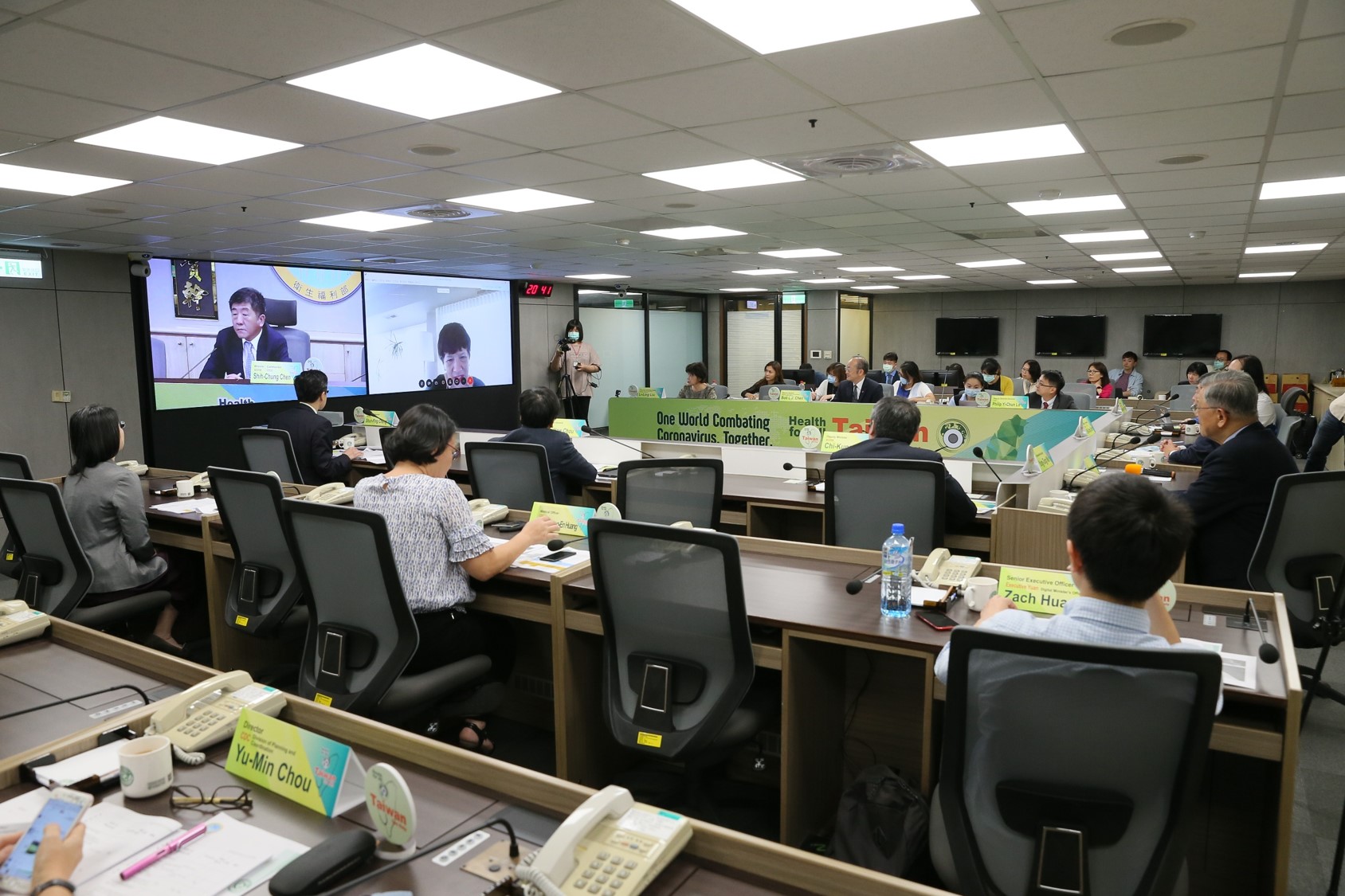 International support
Even though Taiwan did not receive an invitation to participate in the virtual 73rd WHA held on May 18 and 19, 2020, Taiwan's diplomatic allies and like-minded countries voiced their strong support for Taiwan's participation in the WHO.
During the WHA, 14 diplomatic allies firmly backed Taiwan's participation in the WHO and demanded that WHO invite Taiwan to attend the WHA as an Observer. In addition, the like-minded countries such as the United States, Japan, the United Kingdom, France, Germany, Canada, Australia, New Zealand, and the Czech Republic endorsed Taiwan's campaign by directly expressing support for Taiwan or, echoing Taiwan's arguments, by emphasizing inclusiveness and stressing the need for global epidemic prevention efforts to include all parties and have no gaps.
Clips of officials speaking up for Taiwan at the 73rd WHA 
(3)Future prospects
The WHA is scheduled to resume later this year and hold a physical conference. The Ministry will continue to cooperate with the Ministry of Foreign Affairs together with its overall strategies. With civil power, we will take advantage of hard-to-come-by international support this year and strive to attend as an Observer. We emphasize again that United Nations General Assembly Resolution 2758, and Resolution 25.1 of the 25th WHA are not relevant with Taiwan, and do not authorize People's Republic of China to represent Taiwan in the WHO. Republic of China (Taiwan) is a democratic state and only the government elected by Taiwanese citizens is eligible to represent them to join international organizations. WHO's refusal to block Taiwan from attending the WHA and WHO's conferences, mechanisms and activities is contrary to the common interest of international society, and go against the WHO's philosophy "Leave no one behind." The goal "Health for All" can be achieved earlier only by allowing Taiwan to join the WHO.
IV. Strengthening exchange and connection with other countries:
On 7-8 February 2020, Deputy Minister Dr. Chi-Kung Ho led a delegation to participate in the 2020 1st APEC Health Working Group Meeting in Putrajaya, Malaysia. In this meeting, we not only shared Taiwan's COVID-19 prevention and control measures, but also was the leader economy in the "Digital Health Sub-working Group" established in the agreement of all attended member economies. The APEC Health Working Group Statement on COVID-19 is attached.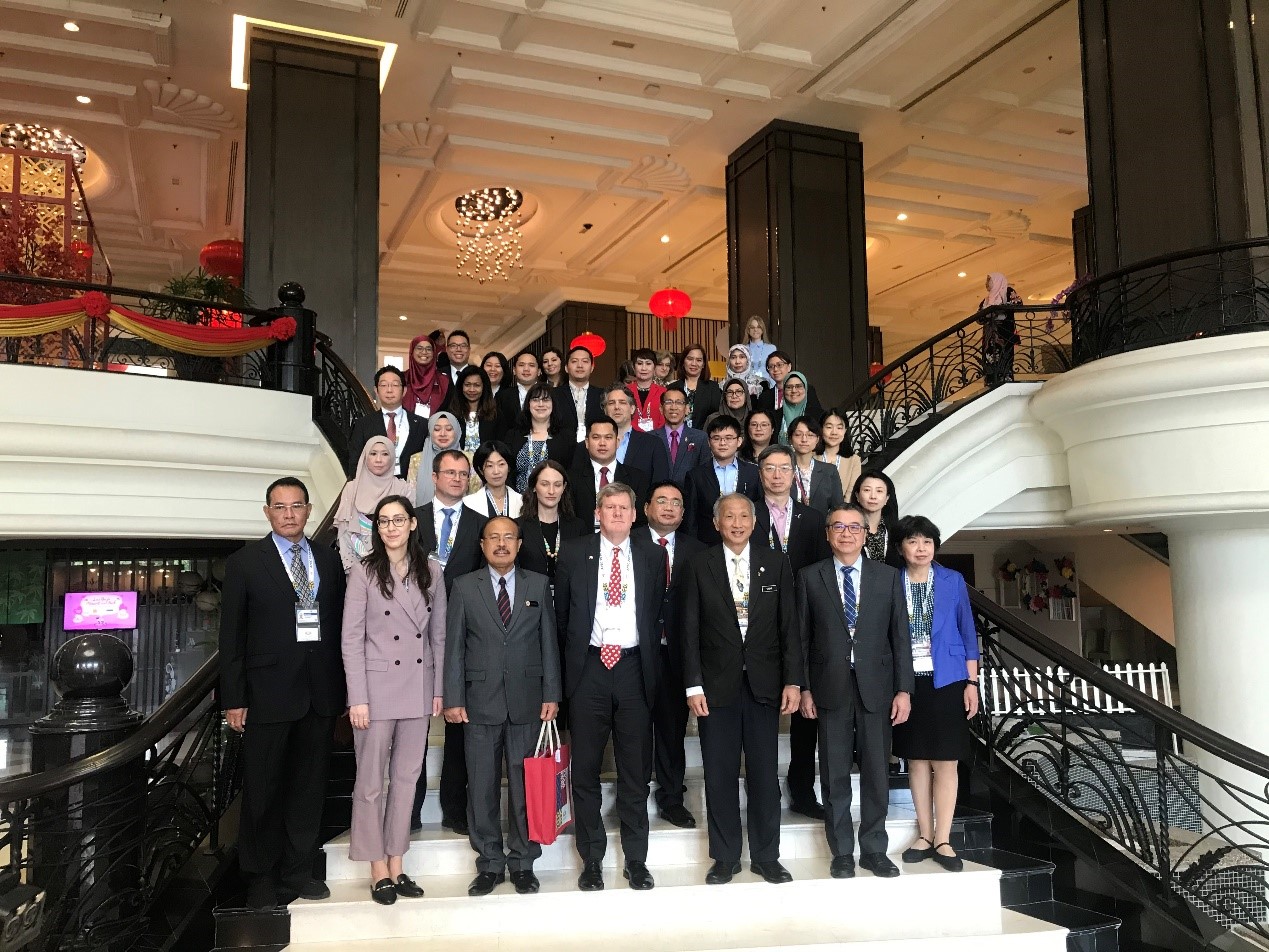 MOHW Counselor Li-Ling Liu had a bilateral meeting with Asher Salmon, Head of Office of International Relations and Media, Ministry of Health, Israel on May 3, 2020. Both sides had a discussion over the disease prevention policies in depth. 
On June 22 2020, Deputy Minister Chi-Kung Ho and Secretary General Karine Moykens, Administrator General Dr. Dirk Dewolf of Flemish Policy Domain Welfare, Public Health and Family of Belgium and their experts had a virtual meeting. They discussed the key to Taiwan's successful response in combating COVID-19 and how we use digital technology for prevention, control and contact tracing. Flanders complimented Taiwan on our achievements.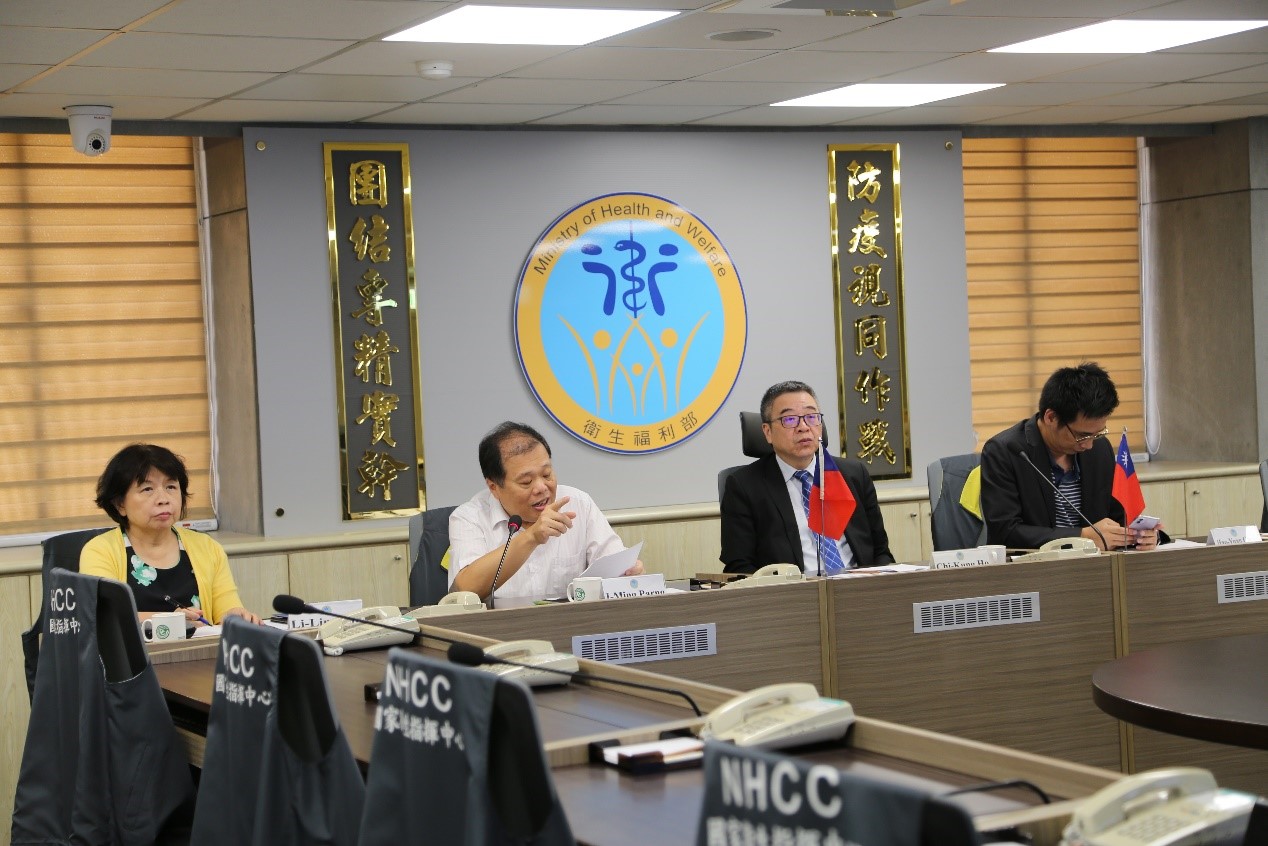 Link to the Fdfa.be
Shin Kong Memorial Hospital had a video conference with medical staff from Palau to understand the infection condition of American volunteers, as well as discussing over means of carrying out screening and the specimen transfer processes. 
The Taiwan embassy in Saint Christopher and Nevis arranged a video conference with Cameron Wilkinson, medical head of the JNF Hospital to take part in the "Chi Mei Medical Center to share Taiwan's experiences on COVID-19 prevention with the Caribbean allies". Apart from the Saint Christopher, Belize, Saint Lucia and Saint Vincent and Grenadines also took part in the conference. Furthermore, Chi Mei Medical Center also had a video conference with the Taiwan Embassy in Hyde and Hyde Ministry of Health. (Figure on the right) . 
The Taiwan Embassy of Saint Vincent and the Grenadines arranged an online video meeting for medical staff from the Milton Cato hospital to participate in the "Chi Mei Medical Center to share Taiwan's experiences on COVID-19 prevention with the Caribbean allies". 
Cathy General Hospital and the disease prevention government officials from the Ministry of Health and Welfare of Paraguay had an online video meeting at the International Cooperation and Development Fund (ICDF) Paraguay technical team office over Health Information System (HIS) efficacy promotion project. During the conference, Cathy General Hospital had shared their epidemic prevention measures, and carried out discussions over how to enhance Paraguay's hospitals capacity in combating COVID-19. 
Multilateral video conference between National Taiwan University Hospital and the Sistema de la Integración Centroamericana (SICA) under the SE-COMISCA was carried out, sharing Taiwan's effective hospital measures in epidemic prevention and successful experiences with eight other member states (Guatemala, Nicaragua, Honduras, Belize, Panama, Costa Rica, Dominica and El Salvador). 
A video conference to provide an overview of COVID-19 and disease prevention experience sharing was conducted between Changhua Christian Hospital and Myanmar Medical Association (Figure on the left). Furthermore, Changhua Christian Hospital worked with the Taipei Economic and Cultural Office in Thailand to carry out a video conference "South-bound smart disease prevention: Taiwan medical intelligence and strategic prevention in COVID-19 outbreak", sharing the efforts and outcomes of Taiwan's prevention in combating COVID-19 (Figure on the right) .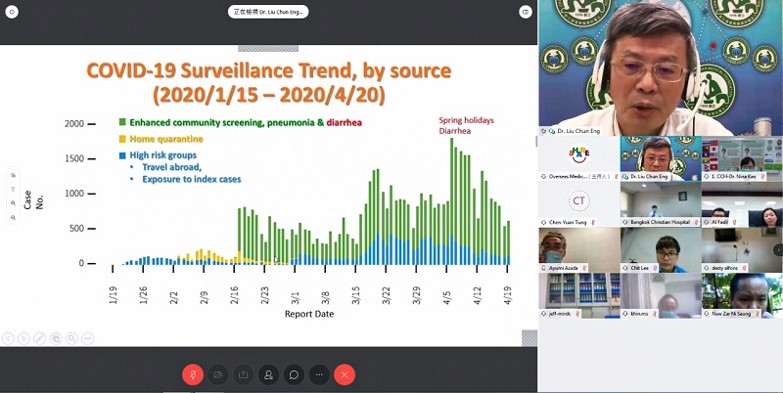 The National Cheng Kung University Hospital had a live stream with medical staff in India to share their COVID-19 screening processes, drug management methods, ways to control the number of cases, mask management policies and various other Taiwan's experience in disease prevention.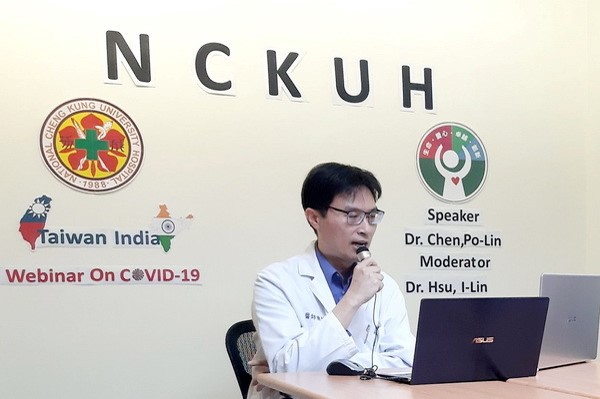 The Taipei Medical University Hospital had a video conference with the Ulyanovsk Regional Clinical Center for Specialized Types of Medical Care and arrangements through the Taiwan Representative in Russia to liaise and arrange meetings with the Health Bureau in Ulyanovsk, regional hospitals, medical faculties and governmental disease prevention units to share Taiwan's experience in COVID-19 prevention. 
---
Relevant links
Created:2020-05-14
Last Updated:2020-07-09
Data Source:Office of International Cooperation
Count Views:774