:::
Safeguarding the community line of defense to create a positive new lifestyle for disease prevention
Background
    In view of the grave experience of combating SARS back in 2003, the Ministry of Health and Welfare (MOHW) has realized that prioritizing the community line of defense is of utmost importance to preventing national epidemics. As the international pandemic rises, it is expected that a large number of inbound travelers will be required to carry out home quarantine. Furthermore, if a confirmed case of COVID-19 appears, their related contacts will also need to perform home quarantine as well. In such a scenario, Taiwan will be facing a tall order in disease prevention. Therefore, Taiwan follows the principle of "super early response", by actively developing and implementing community prevention measures.
---
I. Use of technology for follow-up care for quarantined and self-isolating people:
(I) Building a smart information system: Taking advantage of the high national cell phone penetration rate and excellent technological capabilities, in early February 2020, Taiwan's Central Epidemic Command Center (CECC) quickly mobilized human resources from cross-functional committees, nongovernmental information, communication and telecommunications and combined those with the epidemic prevention and border control work. Innovative technology methodologies were employed to quickly set up an intelligent information system. Databases of Household Registries, National Health Insurance, and Customs and Immigration were connected to create an "Entry Quarantine System", a "Home Quarantine Tracking System" and a "Digital Fencing Tracking System". Additionally, balancing personal privacy protections with the need for epidemic prevention, civil affairs units, public health units and district police forces collaborated to provide follow-up care for people in home isolation and quarantine.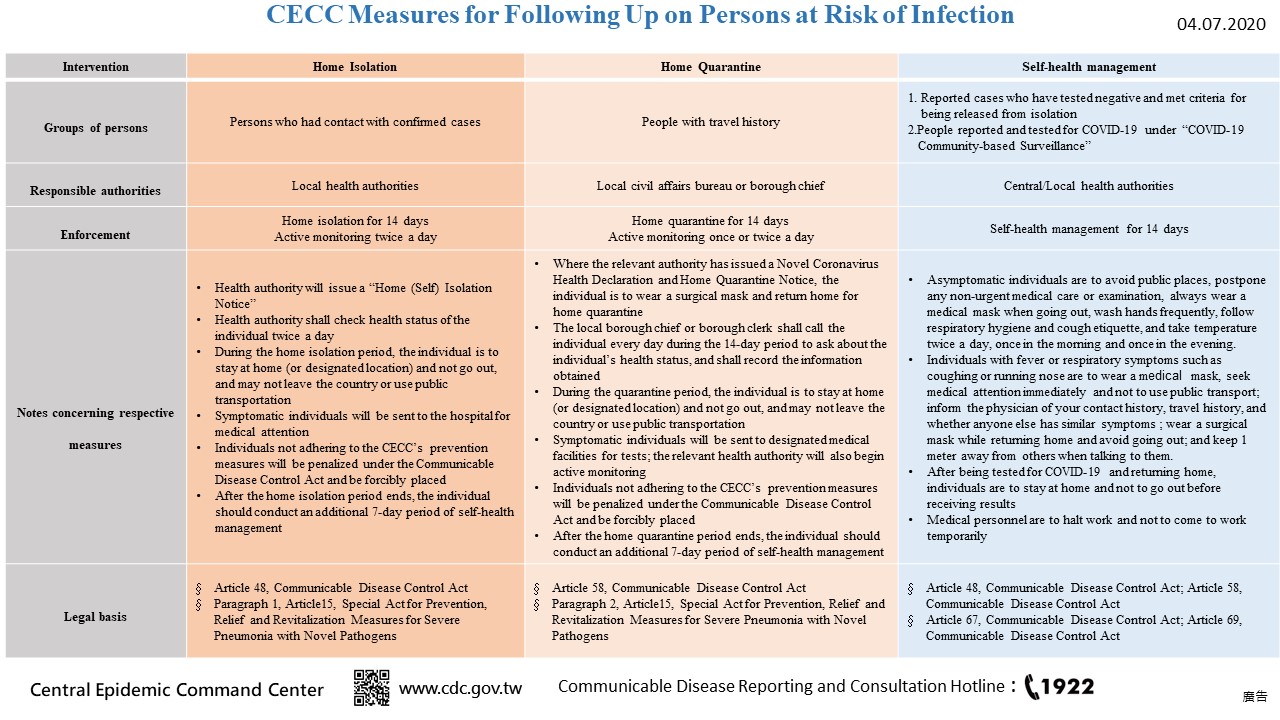 II. Establishment of Central and Local Government Care Centers
(I) The MOHW established a dedicated healthcare center on February 11, 2020. Telephone care was implemented for those in home quarantine for following-up, physical and mental health evaluation. In addition, resource referrals were carried out by 245 specialized nurse volunteers from the center. 
(II) A "Local government care and support service project for home quarantine and isolation" covering all districts nationwide was implemented on March 1, 2020, which put county and city governments in charge of the overall planning of their district resources to provide life, psychological and medical support that people needed during their  self-isolation at home or quarantine period.
III. Important preventative measures at the community level:
(I) Ensuring social distancing measures and implementation of self-health management:
1. Epidemic alert levels, health measures, and general rules (such as mandatory mask-wearing in certain venues and situations, contact information registration, social distancing, enforcing crowd or capacity control in certain venues, limits on the number of participants at large gatherings, and use of dividers or checkerboard seating at restaurants) have been adjusted according to developments in the epidemic situation. The ministry or commission/council of the respective business publishes guidelines for  venues under its regulatory jurisdiction based on the type of the venue and nature of the activity for people to follow. Contact information registration was removed on April 27, 2022; members of the public are encouraged to download and use the Taiwan Social Distancing App.
2.Relevant "crowd control measures in the main tourist attractions, night markets, temples and other public locations" have been established, and these measures serve as guidelines to manage safe behavior of people at tourist attractions, night markets, temples and so forth during weekends and holidays. 
3. With regard to crowded locations during weekends and holidays, the CECC has forwarded text messages via the national "Public Warning System (PWS) for transmissible diseases" to remind the public at particular locations to maintain a safe social distance and wear masks. The public was also advised to implement 14 days of self-health management after returning from a crowded place during weekends or holidays. 
4. Continued advocacy for the New Lifestyle for Disease Prevention to increase awareness in a variety of venues and encourage citizens to internalize epidemic prevention as their daily habits. Taiwan has adopted the New Taiwan Model aiming to achieve the goals of normal life, active disease prevention, and steady opening up.
5. Established epidemic prevention measures for large scale events and public gatherings. Organizers must comply with central epidemic prevention measures and the local government's regulations for large scale events including prohibiting the sale of food outside of designated areas, prohibiting the sale of standing tickets at indoor events, wearing face masks at all times during events unless replenishing fluids, and prohibiting consumption of food and beverages. Members of the public (including performers or event staff) undergoing home quarantine, home isolation, or (enhanced) self-health management, or having a fever, respiratory symptoms, diarrhea, or abnormal sense of smell/taste may not participate in related events.
6. Enhance COVID-19 vaccination rules: people working in or providing services in high risk environments (areas) that come into contact with nonspecific people or cannot maintain social distancing are urged to complete COVID-19 vaccinations. Those who have not completed vaccinations must undergo regular testing to protect their own health, the health of those receiving service, and protecting communities from the epidemic.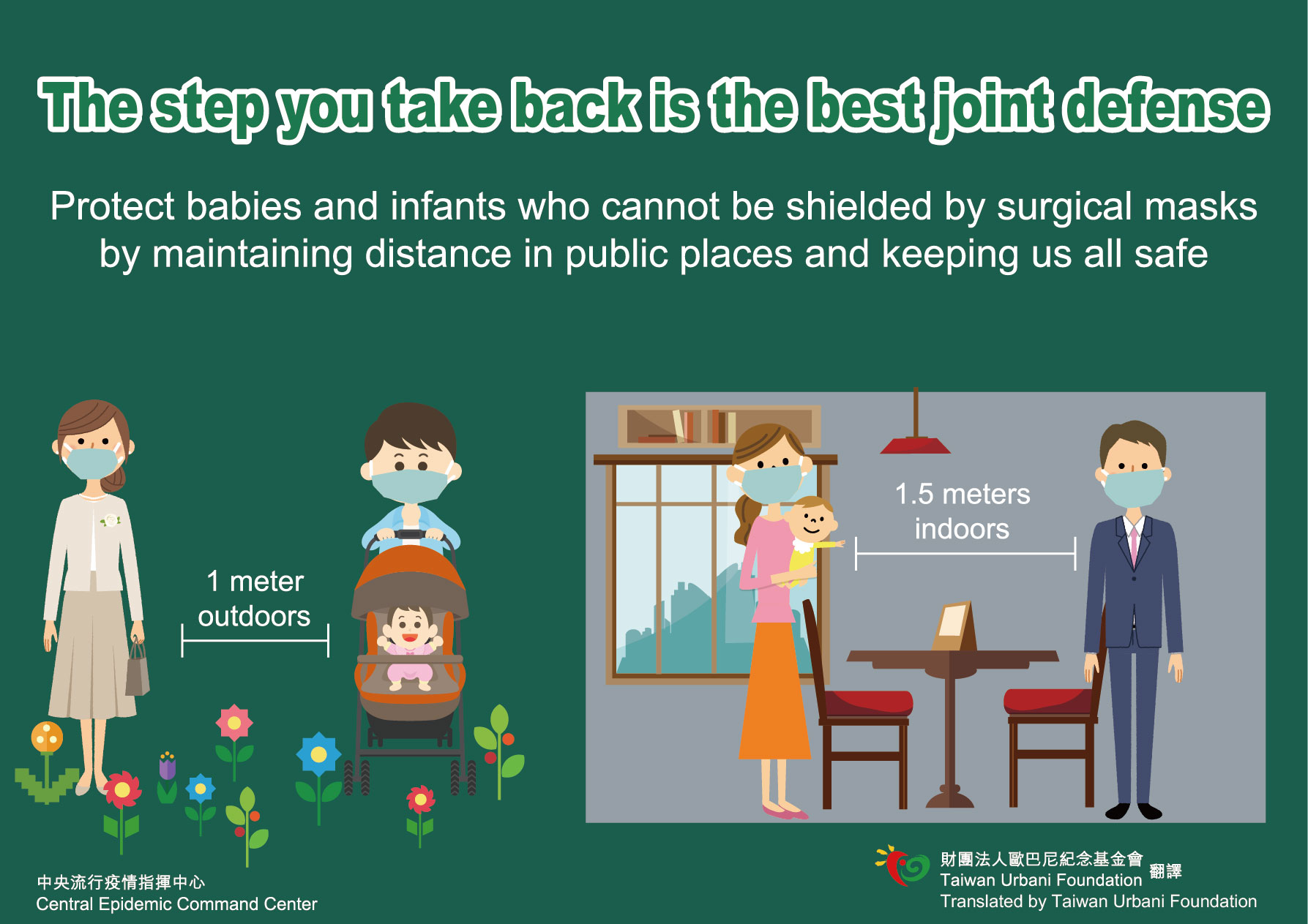 Important community-based preventative measures
(II) Assisting in the adequate separation of members of public in quarantine/isolation:
1. Quarantine Hotels
(1) The CECC works with the local governments to expand the number of quarantine hotels in order to assist members of the public who experience difficulties in carrying out their quarantine/isolation properly. 
2. home isolation or testing
(1) As COVID-19 remains severe globally and the virus keeps mutating, the CECC announced that starting March 1, 2021, the "one person per residence" rule of home (self) isolation shall be imposed for close contacts to bolster prevention measures at the community level, instead of the original rule of one person per room, to ensure people's health. 
Special populations, including children and adolescents (under 18), adults who are over 65 and unable to take care of themselves, people with disabilities or incapacity, and people with catastrophic injuries or illnesses, may be allowed to live with a caregiver who is not subjected to quarantine or isolation, and the rule of one person per room does not apply.
(2)  In response to the global spread and high transmissibility of the Delta variant and given that some contacts isolating at home may be found to have COVID-19 during the period of self-health management after the end of isolation, starting June 22, 2021, close contacts of confirmed cases and those entering Taiwan from abroad must undergo PCR testing two days prior to the end of home quarantine/isolation.
(3) In order to enhance health monitoring during the period of self-health management after quarantine, starting 00:00 (flight arrival time) on October 4, 2021, the existing measures requiring arrivals to take an at-home rapid test between the 10th and 12th day of quarantine was adjusted. The changed measures require arrivals to take a rapid test between the sixth day and seventh day of the self-health management period and report their test result back via two-way SMS messaging.
(4)  In response to the quarantine requirements of citizens returning to Taiwan for the lunar new year, the "Lunar New Year Quarantine Programs" were effective between December 14, 2021 to February 14, 2022. Arrivals may choose one of the three quarantine plans based on their vaccination status and the conditions of their home or relative's residence. Starting December 14, 2021, heavy penalties were imposed for violation of home quarantine regulations. In order to safeguard epidemic prevention efforts in communities and the health of citizens, arrivals were considered individuals subjected to isolation who should complete isolation at their quarantine location. However, if a change of the quarantine location was necessary, the principle of "one person per residence" must be met; additionally, individuals completing quarantine and continuing to undergo isolation must produce a negative PCR before changing the location. Such individuals under isolation or self-health management must undergo PCR testing or government-funded rapid testing as required.
(5) In response to the continued spread of the Omicron variant in the following months, health monitoring of arrivals during the quarantine and self-health management periods was enhanced. Testing measures implemented under the Lunar New Year Quarantine programs were adjusted on December 20, 2021, requiring individuals under quarantine to take RT-PCR or government-funded rapid tests upon entry and on third, seventh, tenth, and 14th day of quarantine as well as between the sixth and seventh day of the self-health management period.
(6) Epidemic prevention measures are adjusted based on developments in the epidemic situation to control the spread of COVID-19 and help people return to a normal life. Key contact tracing and identifying close contacts were implemented on April 25, 2022; confirmed cases should voluntarily provide a list of people living with them as well as epidemic prevention coordinators at their schools or companies. Companies and schools should cooperate with health authorities in compiling such a list to facilitate the issuance of digital isolation notices. The isolation period was shortened to a 3+4 plan (three days of isolation followed by four days of self-initiated epidemic prevention) on April 26, 2022. Starting May 8, in principle, only close contacts and people living with confirmed cases would be identified as close contacts. Workplaces and schools would take self-initiated epidemic prevention response. Furthermore, the digital fencing measure was terminated for people under isolation. Beginning May 17, confirmed cases' live-in family members who have received three vaccine doses can be exempted from home isolation but should practice a 7-day self-initiated epidemic prevention.
(7) To protect the country's epidemic prevention and PCR testing capacities, expedite the provision of antiviral drugs to high-risk groups, who are likely to develop severe complications or die after infection, and reduce the risk of deterioration, the definition of a confirmed case of COVID-19 was revised, effective from May 26, 2022. The revised definition includes: an individual, regardless of age or which group he or she is in, who tests positive for COVID-19 with an at-home rapid antigen test kit and whose test result is confirmed by a medical professional or who tests positive with a rapid antigen test performed by a medical professional.
3. Airport Designated Transport Vehicles
(1) The CECC expands planning for airport designated transport vehicles, including taxis, rental cars and intercity buses, to assist members of the public returning home, as well as preventing public transport becoming a weak link in disease prevention. Furthermore, subsidies, reimbursements, award mechanisms and other measures are in place to encourage people to involve themselves in helping epidemic prevention. 
(2) To ensure epidemic prevention efforts in communities, individuals in quarantine or isolation should follow instructions given in the notice to contact the local Department of Health or dial the Communicable Disease Reporting and Consultation Hotline, 1922, and wear medical masks to seek medical attention as instructed; such individuals should travel by ambulance or quarantine taxi and must not take public transport.

4. Given the possibility of some people being diagnosed with COVID-19 after their two-week quarantine, the CECC has announced that, as of April 5, 2020, people should carry out an additional 7-day self-health management immediately after being released from home quarantine/isolation. This may prevent patients with a longer latency period from spreading virus into the community. 
5. Applying to go outside during isolation/quarantine on humanitarian grounds
In consideration of humanitarian reasons, the CECC announced on October 7, 2020, adjustments to the rules for people in isolation/quarantine who needed to go outside to attend funerals of relatives, visit severely ill relatives, or for other emergencies. According to adjusted rules, asymptomatic individuals in quarantine or isolation were eligible to apply to leave their quarantine/isolation location with their local health authority starting the first day of quarantine/isolation.
IV. Expanding the capacity of quarantine/isolation sites:
(I) To prevent the COVID-19 from spreading into communities, the CECC has designated and sequestered sites for group quarantine and has allocated human resources to run those. Additionally, the CECC continues to carry out location scouting, sequester suitable sites and increase the number of designated quarantine sites. As of October 31, 2022, there are 52 designated quarantine sites with 6,136 fully-equipped rooms available for use. 
(II) To care for the people in designated quarantine sites, all tasks are looked after by a Safety Team, Logistics Team, Sanitation Team, and so forth to assist with daily surveillance, environment cleaning, and medical and mental health services. The designated quarantine sites have provided services for many people, including Taiwanese nationals returning to Taiwan from Wuhan, Shanghai, and India on chartered/evacuation flights, Taiwanese passengers from the Diamond Princess cruise, naval crew members of Taiwan Dunmu (Goodwill) fleet, and migrant workers. 
V. Creating a positive social climate for disease prevention:
(I) The CECC has been hosting daily press conferences to provide updates on the epidemic and the latest policies and measures to build a high-profile, transparent and trusted direct communication channel with the general public to resolve doubts and uncertainties. 
(II) Furthermore, the CECC has also utilized multiple platforms such as press conferences, video clip series on epidemic prevention, MOHW website, Facebook and Line@ official account and various other resources for promoting the value of positive epidemic prevention and endeavored to form a friendly, forgiving and non-discriminative social climate. The CECC firmly follows the principle of "Honesty is the best policy for disease prevention" to prevent conflicts between the general public, people diagnosed with COVID-19 and people quarantined or self-isolating at home. 
(III) Building a "New Life Movement for Disease Prevention": To provide stepwise progress to restore the normal life, the government encourages the public to practice handwashing and personal hygiene habits, maintaining an indoor social distance of 1. 5m and an outdoor social distance of over 1m. 
VI. COVID-19 vaccine access and vaccination
(I) Access to vaccines
The global COVID-19 situation remains severe. Vaccination is a ray of hope in the global efforts to contain the spread of COVID-19.As the market for vaccines was still a seller's market in the first half of 2020, the CECC proceeded to secure vaccines in different directions, including "international sponsorship" (participating in the COVAX mechanism led by WHO, GAVI, and CEPI), "direct procurement from manufacturers," and "domestic production," at the same time, in order to disperse risks and obtain safe and effective vaccines as soon as possible for domestic at-risk groups.
(II) Vaccination 
The CECC continues to track the status of COVID-19 vaccinations abroad, evaluate vaccine safety and effectiveness, and flexibly adjust domestic vaccination practice. The priority list for COVID-19 vaccination is based on the recommendations of Taiwan's Advisory Committee on Immunization Practices (ACIP) and is guidance on vaccinating at-risk groups in the following order:
1. Medical personnel: maintain medical capacity
2. Epidemic prevention personnel at central and local governments: maintain epidemic prevention capacity
3. Front-line workers at high risk of exposure, such as domestic airline crew, international merchant ship crew, drivers of epidemic prevention vehicles, front-line personnel except CIQS personnel, and front-line personnel who perform duties related to quarantine in quarantine hotels
4. People who need to go abroad under special circumstances, such as persons traveling abroad on diplomatic or official duties, relatives of foreign diplomats stationed in Taiwan and whose home country provide vaccination for Taiwanese diplomats under a reciprocal agreement, athletes or competitors who represent Taiwan to compete abroad.
5. Essential personnel who are necessary to maintain the functions of society, such as the police and military police who maintain public security and the functions of society
6. Workers and care recipients in care facilities and the social welfare system: maintain the operations of care facilities and the social welfare system
7. Personnel necessary to maintain the normal operations of national security: members of the armed forces and those served in civilian posts in military agencies and national security units
8. Elder people over 65 years of age: at high risk of serious complications or death after infection
9. People aged 19-64 with a high risk of serious illness, rare diseases, and major injuries: increased risk of serious infection and disease
10. Adults aged 50-64: at high risk of severe complications or death after infection
As the vaccine supply has become stable, everyone who wants to be vaccinated can register, book an appointment, and get vaccinated through the COVID-19 Vaccination Registration and Reservation system.
VII. Procurement of therapeutic drugs
After referring to international recommendations and consulting experts, the CECC included remdesivir and the combined use of monoclonal antibodies as recommended drugs in the Interim Guidelines for the Clinical Treatment of Novel Coronavirus (SARS-CoV-2) Infections. The CECC procured these drugs to stockpile them and distribute them for the treatment of severe cases or mild to moderate cases with severe risk factors.
Oral drugs are generally easier to administer than injectable medication and satisfy relevant needs arising from the disease prevention model which focuses on separate admission and treatment for mild and severe cases as well as home care. In consideration of these characteristics and after referring to status of oral drug stockpiles of other developed countries, Taiwan signed an agreement with Pfizer for the procurement of 700,000 courses of the oral drug Paxlovid, sufficient for 3% of the country's population, on April 10, 2022.
Created:2022-11-03
Last Updated:2022-11-03
Data Source:Hospital and Social Welfare Organizations Administration Commission
Count Views: