:::
Safeguarding the community line of defense to create a positive new lifestyle for disease prevention
Background
    In view of the grave experience of combating SARS back in 2003, the Ministry of Health and Welfare (MOHW) has realized that prioritizing the community line of defense is of utmost importance to preventing national epidemics. As the international pandemic rises, it is expected that a large number of inbound travelers will be required to carry out home quarantine. Furthermore, if a confirmed case of COVID-19 appears, their related contacts will also need to perform home quarantine as well. In such a scenario, Taiwan will be facing a tall order in disease prevention. Therefore, Taiwan follows the principle of "super early response", by actively developing and implementing community prevention measures.
---
I. Use of technology for follow-up care for quarantined and self-isolating people:
(I) Building a smart information system: Taking advantage of the high national cell phone penetration rate and excellent technological capabilities, in early February 2020, Taiwan's Central Epidemic Command Center (CECC) quickly mobilized human resources from cross-functional committees, nongovernmental information, communication and telecommunications and combined those with the epidemic prevention and border control work. Innovative technology methodologies were employed to quickly set up an intelligent information system. Databases of Household Registries, National Health Insurance, and Customs and Immigration were connected to create an "Entry Quarantine System", a "Home Quarantine Tracking System" and a "Digital Fencing Tracking System". Additionally, balancing personal privacy protections with the need for epidemic prevention, civil affairs units, public health units and district police forces collaborated to provide follow-up care for people in home isolation and quarantine. 
(II) Establishing regulations to impose heavy penalties violating corona-related laws and regulations: according to the "Special Act for Prevention, Relief and Revitalization Measures for Severe Pneumonia with Novel Pathogens", those who violate isolation or quarantine measures shall receive a fine of up to TWD 1 million (USD 33,000) and are obliged to be put in group quarantine.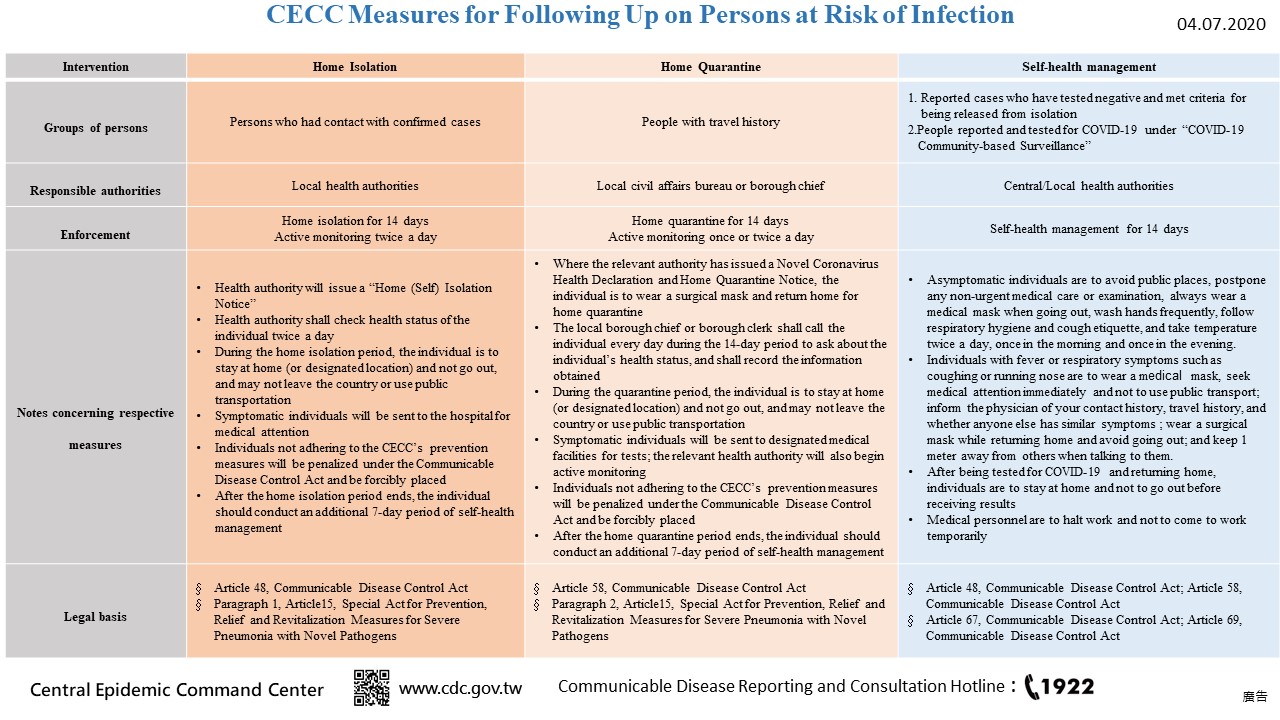 II. Establishment of Central and Local Government Care Centers
(I) The MOHW established a dedicated healthcare center on February 11, 2020. Telephone care was implemented for those in home quarantine for following-up, physical and mental health evaluation. In addition, resource referrals were carried out by 245 specialized nurse volunteers from the center. 
(II) A "Local government care and support service project for home quarantine and isolation" covering all districts nationwide was implemented on March 1, 2020, which put county and city governments in charge of the overall planning of their district resources to provide life, psychological and medical support that people needed during their  self-isolation at home or quarantine period.
III. Important preventative measures at the community level:
(I) Ensuring social distancing measures and implementation of self-health management:
1. Determine the precautions for social distancing over large-scale public gatherings, large business premises, community maintenance and management, guidelines for business continuity during the epidemic. These serve as referencing materials for various fields. 
2. Specify the upper limits for gatherings and assemblies. It is recommended to consider canceling indoor and outdoor events if they exceed the number of more than 100 or 500 respectively to minimize the impact of the epidemic over the economy and society. 
3. Relevant "crowd control measures in the main tourist attractions, night markets, temples and other public locations" have been established, and these measures serve as guidelines to manage safe behavior of people at tourist attractions, night markets, temples and so forth during weekends and holidays. 
4. With regard to crowded locations during weekends and holidays, the CECC has forwarded text messages via the national "Public Warning System (PWS) for transmissible diseases" to remind the public at particular locations to maintain a safe social distance and wear masks. The public was also advised to implement 14 days of self-health management after returning from a crowded place during weekends or holidays.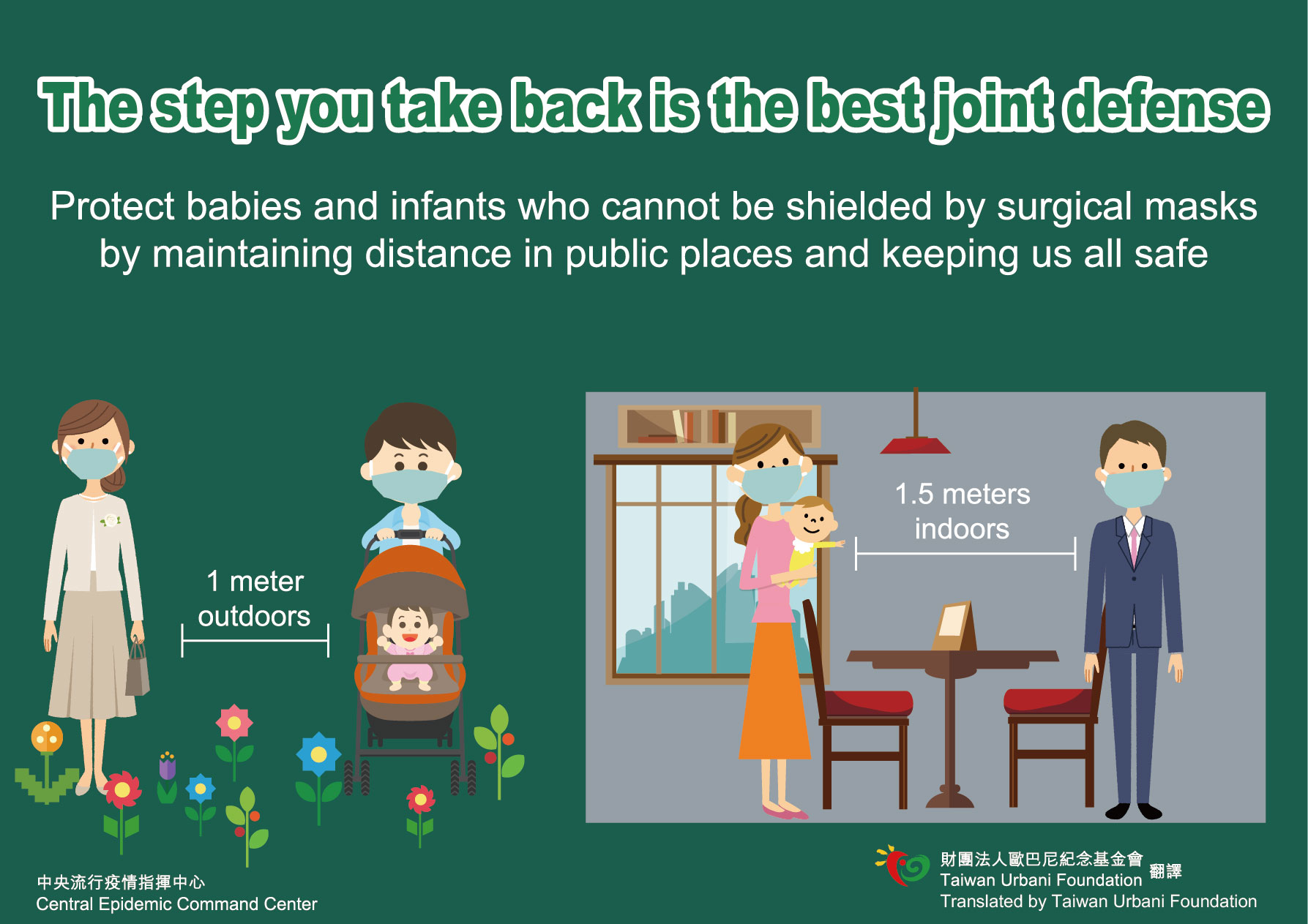 Important community-based preventative measures
(II) Assisting in the adequate separation of members of public in quarantine/isolation:
1. Quarantine Hotels:
(1) The CECC works with the local governments to expand the number of quarantine hotels in order to assist members of the public who experience difficulties in carrying out their quarantine/isolation properly. 
(2) In response to the international pandemic progression, inbound travelers who have the following situations will need to proactively provide data and observe home quarantine. If any of their household members are over the age of 65, children of six years or younger, patients with chronic diseases (such as cardiovascular diseases, diabetes, lung diseases, etc.), or people who do not have an independent room or showering facility at home, they are obligated to stay in a quarantine hotel:
a. Effective from 00:00 Taiwan time on April 18, 2020, people who enter Taiwan with a travel history of having visited Europe or the Americas over the past 14 days (starting 00:00 Taiwan time on April 4, 2020) 
b. Effective from 00:00 Taiwan time April 21, 2020, people who enter Taiwan with a travel history of having visited South East Asia over the past 14 days (starting 00:00 Taiwan time on April 7, 2020). 
2. Airport Designated Transport Vehicles: The CECC expands planning for airport designated transport vehicles, including taxis, rental cars and intercity buses, to assist members of the public returning home, as well as preventing public transport becoming a weak link in disease prevention. Furthermore, subsidies, reimbursements, award mechanisms and other measures are in place to encourage people to involve themselves in helping epidemic prevention. 
3. Given the possibility of some people being diagnosed with COVID-19 after their two-week quarantine, the CECC has announced that, as of April 5, 2020, people should carry out an additional 7-day self-health management immediately after being released from home quarantine/isolation. This may prevent patients with a longer latency period from spreading virus into the community. 
(III)From June22, short-term business travelers are allowed entry and can apply for shortened home quarantine period
1.On June 17, the Central Epidemic Command Center (CECC) announced the conditions under which short-term business travelers can apply for reduced amount of time of home quarantine—business travelers who wish to make short visits to Taiwan can apply for shortened home quarantine period starting from June 22 if such travelers meet all the conditions listed below:
(1) Those who are allowed entry according to the announcements of the CECC
(2) Those whose duration of stay doesn't exceed three months
(3) Business travelers who enter the country for business activities, such as goods inspection, after-sale services, technical assistance and training, and contract signing
(4) Those who arrive from low- or medium-risk countries/regions announced by the CECC and have no history of travel to other countries in the last 14 days before boarding the flight to Taiwan.
The CECC stated that business travelers who meet the conditions listed above should have relevant certificates and documents prepared for the business visit by local companies, travel itinerary, and disease prevention plans, while negative COVID-19 test certificates issued for travelers' specimens tested within three days prior to their flight to Taiwan should also be prepared for inspection.
2.Applicants who arrive from low-risk countries/regions may contact the local health authority of the quarantine hotel at which they stay to take out-of-pocket COVID-19 testing after undergoing quarantine for five days; those who arrive from medium-risk countries/regions may undergo COVID-19 testing at their own expense on the seventh day after entry. After obtaining negative COVID-19 test certificates, applicants may contact the local health authority to end quarantine and practice self-health management until the 21st day after entry instead of quarantine. During the self-health management period, the travelers should still monitor their temperature every day and reply to text messages requesting an update on their health status. The travelers should also engage in restricted activities as shown in the itinerary and provide their names for the activities. Furthermore, they should record their daily activities and persons who come into contact with them, avoid public places and wear a mask at all times when going out.
3.The abovementioned rules would be applicable to only short-term business travelers; those who plan to stay in the country for more than three months should still observe the 14-day home quarantine after entry.
4.Foreign nationals, mainland Chinese and Hong Kong and Macao residents who do not have documents for residency may not apply for disease prevention compensation from June 17.
IV. Expanding the capacity of quarantine/isolation sites:
(I) To prevent the COVID-19 from spreading into communities, the CECC has designated and sequestered sites for group quarantine and has allocated human resources to run those. Additionally, the CECC continues to carry out location scouting, sequester suitable sites and increase the number of designated quarantine sites. As of March 15, 2021, there are 40 designated quarantine sites with 4,579 fully-equipped rooms available for use. 
(II) To care for the people in designated quarantine sites, all tasks are looked after by a Safety Team, Logistics Team, Sanitation Team, and so forth to assist with daily surveillance, environment cleaning, and medical and mental health services. The designated quarantine sites have provided services for many people, including Taiwanese nationals returning to Taiwan from Wuhan, Shanghai, and India on chartered/evacuation flights, Taiwanese passengers from the Diamond Princess cruise, naval crew members of Taiwan Dunmu (Goodwill) fleet, and migrant workers. 
V. Creating a positive social climate for disease prevention:
(I) The CECC has been hosting daily press conferences to provide updates on the epidemic and the latest policies and measures to build a high-profile, transparent and trusted direct communication channel with the general public to resolve doubts and uncertainties. 
(II) Furthermore, the CECC has also utilized multiple platforms such as press conferences, video clip series on epidemic prevention, MOHW website, Facebook and Line@ official account and various other resources for promoting the value of positive epidemic prevention and endeavored to form a friendly, forgiving and non-discriminative social climate. The CECC firmly follows the principle of "Honesty is the best policy for disease prevention" to prevent conflicts between the general public, people diagnosed with COVID-19 and people quarantined or self-isolating at home. 
(III) Building a "New Life Movement for Disease Prevention": To provide stepwise progress to restore the normal life, the government encourages the public to practice handwashing and personal hygiene habits, maintaining an indoor social distance of 1. 5m and an outdoor social distance of over 1m. 
Created:2020-05-14
Last Updated:2021-03-16
Data Source:Centers for Disease Control, Ministry of Health and Welfare
Count Views:0