:::
Timely border control
I. Immediately preventing spread of COVID-19 from China:
(I) Taiwan immediately called a press conference on the COVID-19 outbreak in Wuhan City when it first occurred even before the situation in China was clearly understood.
(II) Taiwan began to conduct onboard quarantine of passengers on direct flights from Wuhan starting from December 31, 2019.
(III) Taiwan banned the entry of Chinese nationals from Hubei on January 26, 2020, and extended the ban to Chinese nationals from Guangdong and Wenzhou.
(IV) Taiwan banned the entry of all Chinese nationals from China, Hong Kong, and Macao on February 11, 2020.
II. Monitoring the international outbreak situation and adjusting travel notices:
(I) Taiwan initially adjusted the level of travel notices for individual countries
1. Travelers from level-1 (watch) and level-2 (alert) countries subjected to mandatory self-health management for 14 days.
2. Travelers from level-3 (warning) countries subjected to mandatory home quarantine for 14 days.
(II) The virus spread to Europe and the Americas and developed into a pandemic.
1. Taiwan banned all foreign nationals (exempting those holding a Resident Certificate or special entry permit) from entering the country starting from March 19, 2020.
2. Taiwan issued a level-3 travel notice for all countries/regions on March 21, 2020.
3. Taiwan banned air travelers from transiting through the country on March 24, 2020.  At this point, the entry of all foreign nationals was banned.
(III) Initiating Palau travel bubble to promote economic activity:
1. The CECC lowered its travel notice for Palau to level 2 on April 22, 2021.
2. The CECC travel notice for all countries (excluding Palau) maintained at level 3 on April 22, 2021.
3. The CECC raised its travel notice for Palau to Level 3: Warning on January 25, 2022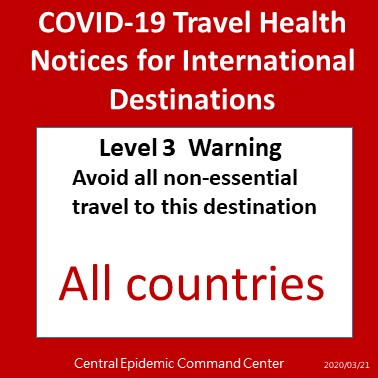 Taiwan raises travel notices for all countries to Level 3 on March 21, 2020.

The Central Epidemic Command Center arranges for Taiwanese people to fly back to Taiwan from mainland China on a charter flight.

The Taiwanese people on a charter flight arrive at Taiwan Taoyuan International Airport.

Quarantine personnel conduct fever screening and health assessments at the airport.

Personnel at the airport carry out disinfection of passengers' luggage.

Quarantine personnel board SuperStar Aquarius to carry out quarantine work on February 8, 2020.

Quarantine personnel carried out quarantine procedures on passengers aboard the SuperStar Aquarius on February 8, 2020.
Created:2020-05-14
Last Updated:2023-04-10
Data Source:Centers for Disease Control, Ministry of Health and Welfare
Count Views: